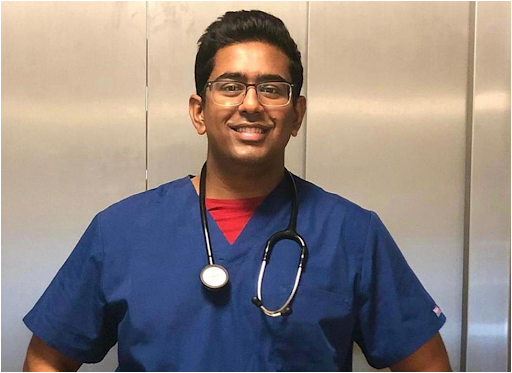 A 5th year medical student at Poznan University of Medical Sciences in Poznan, Poland. Rahul Pawate, who goes by Yash, was born in India, moved to the United States when he was 7 years old. He completed his primary and secondary education in the Dallas metroplex area. Growing up, Yash was known as the "weather-man" of the community and would track various weather patterns especially tornadoes, and hurricanes. His ambition was to become a meteorologist! As he entered 9th grade, his got introduced to the world of the amazing machine – the human body. His interest motivated him to take several advanced courses in the field of human science which cemented his interest in pursuing a career in healthcare. Yash graduated, from high school, in 2018 with honors and started medical school at Poznan Institute of Medical Science (PUMS) in Poland, the same year. Poland was literally another world – everything was different – place, people, weather, culture, language, and curriculum. This change, at times was over-whelming to the point of asking himself 'can I survive medical school ?'. To everyone's surprise he ended up exceeding all expectations when he passed year 1 of med school and went on to being one of the top students in year 1 to 3 and being awarded for academic excellence for year 4. During his time in medical school, Yash has been tutoring various student, and involved in multiple clubs- American Medical Student Association (AMSA) Vice President PUMS Int'l Chapter, Chief of Tutoring, Oncology, Badminton, and Endocrinology. His passion for healthcare continued when he started getting hands-on-clinical experience with his local primary care physician in Dallas, Texas. Shadowing at first, Yash was hesitant, anxious, overwhelmed, and even doubted whether this was the right profession for him. As time went on, and interacting with over 700 patients within the span of 4 years, he has boosted his knowledge, confidence, and has shown great dedication towards his professional duties. Yash is currently studying for his USMLE Step 2 and will be applying for the 2024 match cycle in Internal Medicine.
Dr. Umm e Farwa
Doctor by profession and public speaker by passion
Doctor, Trainer and Public Speaker
Success is not an accident, it is hard- work, perseverance, learning, studying, sacrifice, consistency and most of all, love of what you are doing.
This quote comes to it's practicality when we talk about Dr. Umm e Farwa, as she always believed in consistency of what she is doing.
She was always asked by people that "How do you manage your Public Speaking with your Medical profession" to which she always replies that "where there is a will, there is a way"
"Doctor by profession and Debater by passion and writer by choice" is the exact sentence that defines her personality. The world witnesses this lady proving herself in whatever she does, in whatever she gets in and whatever she aims for, compelling the world to proclaim for her "There is nothing that this lady cannot achieve"
She did her first speech when she was in class six in 2006, and afterwards it was a history as she never came back without winning the title from any competition. After winning dozens of trophies and titles in speeches and debates and training many individuals and giving numerous electronic media appearances, she is still hungry to grab more of them. But her main objective is still to illuminate the mind of the listeners and viewers with whatever knowledge she possess.
This lady has been winning laurels and making her own identity with all the spark ,spontaneousness, glamour, boldness, versatility, beauty, brutal honesty and unmatchable approach towards life.
At present she is working as a Medical Assistant. She is an official trainer of Public Speaking Society of Jinnah Sindh Medical University and Arts Council Pakistan.She is also a Moderator at the biggest welfare hospital of Pakistan Shaukat Khanum. Along with that she moderates the events of the biggest pharmaceutical companies of Pakistan i.e. Getz and GSK.
Dr.Umm e Farwa believed if you want to learn something more, you should teach others what you know more and that's the very reason why she has trained more than 3000 individuals in the field of Public Speaking. She is a Spokes Person of Youth Parliament Pakistan and Executive Council of Youth Parliament Debate Council. She was in top 16 speakers of all Pakistan in 2016 recognized by Higher Education Commission. She appeared as a Speaker, Trainer and Doctor on Thirteen international channels of Pakistan including Geo Tv, Ary Digital, PTV and Hum Tv. She has grabbed multiple awards for her different and unique speaking style from almost all the renowned Universities of Pakistan.She has judged and chaired many public speaking competitions. She has conquered all the social media by one of her speeches named "Hum Azaad hain"
She believes that nothing and nobody should ever have the master key to control your happiness and sorrows. You own your life and you have the full right to demand, strive and achieve. If it can't be achieved hardest misfortune belongs to it, not you. Invest wisely, strive wisely, this world is yours , you are not for the world.
Dr. Marjan Assefi
&
Dr. Zain Abdin